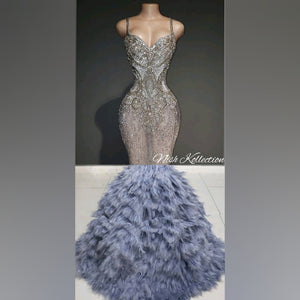 MCQUEEN VIKING WEDDING FEATHER GOWN
The Viking Mermaid Dress is made of a sheer sequin material with rhinestone at the front with a sweetheart neckline with straps that goes all the way to the back with a deep opening. Zips at the back as well with a feather mermaid at the end.
See size chart in media images
Please note If item is needed BEFORE 3 months and a half please select "yes rush" for the rush my order option.     
WhatsApp Contact number: 18765271905
Email Address: info@nishkollection.com
Instagram Designer @nicollenish
Nish kollection @nishkollection