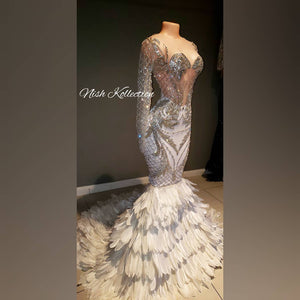 Aphrodite Phoenix Rhinestone Mermaid Dress
This magnificent beauty is another version of the Aphrodite Phoenix its fully rhinestone dress from shoulder to knee and has 40 inches of feathers. Rhinestoned in full 360 on this beauty. Perfect for any red carpet event, prom, wedding and more.  
All designs from Nish kollection can be customized upon request, charges will be applied based on request needed.

Contact number: 18765271905 Email Address: info@nishkollection.com Follow on instagram please Designer @nicollenish Nish kollection @nishkollection
SIZE CHART
XSMALL bust 31-32.5, waist 22-23.5, hip 32-34, SMALL bust 33-35.5, waist 24.5-26, hip35.5-37 MEDIUM bust 37-38.5, waist 27-29, hip 38.5-40 LARGE bust 40-41.5, waist 31-33, hip 41.5- 43.5 XLARGE bust 43-45, waist 35-37, hip 45-47
2XL bust 47-50, waist 39-41, hip 49-51
3XL bust 51-53, waist 42-44, hip 52-54
4XL bust 54-56, waist 45-47 hip 55-57
5XL bust 57-60, waist 48-50, hip 58-60